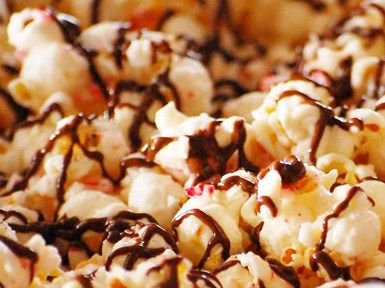 White Chocoalte Peppermint Popcorn
10-12 cups popcorn
1 1/2 C. crushed candy cane
8 oz. white chocolate or Almond Bark
1 tsp. peppermint extract
milk or dark chocolate
Pop 10-12 cups of popcorn and sprinkle with a little salt.
Crush candy canes very finely until you have enough for 1.5 cups and set aside.
Melt 8 ounces of white chocolate chips or Almond Bark.
After it is melted stir into the chocolate 1 to 1.5 tsp of Peppermint Extract. The chocolate may get a little lumpy, which is fine.
Pour chocolate over the popcorn and stir until it is evenly distributed.
Sprinkle the crushed candy canes over the popcorn and stir until it is all mixed again.
Pour the popcorn out onto a layer of wax paper.
While it is drying, melt some regular chocolate chips and drizzle over the popcorn.
Let harden before serving.